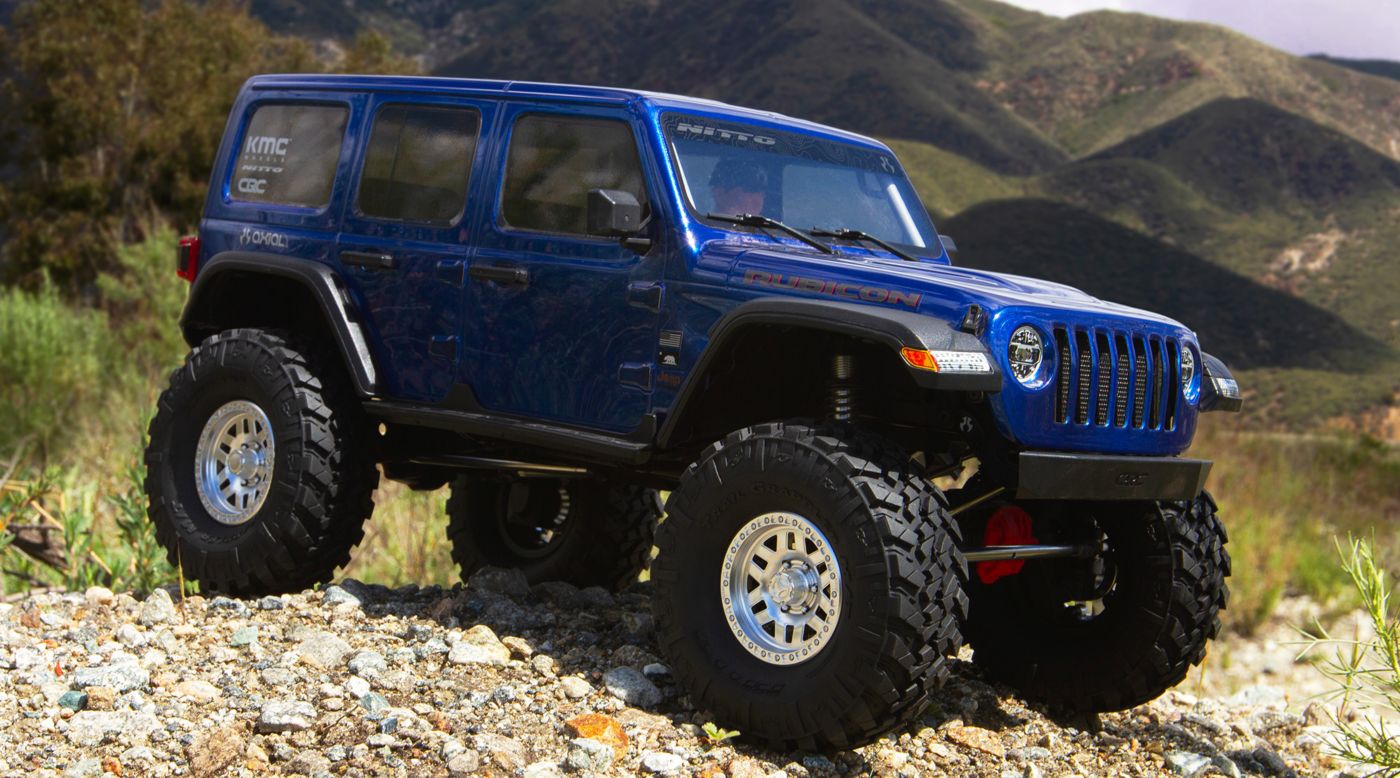 New from Axial Racing comes the SCX10III Jeep JL Wrangler kit. The new platform is all new and incorporates a host of changes that add realism as well as performance.
Beginning with the all new chassis Axial has incorporated a system to provide adjustable wheelbase options (akin to the Vaterra Ascender) allowing the use of different wheelbase bodies without swapping too many pieces. Attached to the chassis are new stainless steel links with stainless pivot balls for added durability. Those links are arranged in a double triangulated 4-link for the rear to reduce torque twisst and a triangulated 3-link with panhard bar up front that features revised geometry for reduced bump steer. At the end of those links reside new AR45 portal axles with Hypoid ring and pinion gears and an offset front pumpkin, matching the full-scale JL. The portal boxes add ground clearance while also reducing torque twist by adding gear reduction to the ends of the axles instead of at the ring and pinion. Damping those axles are 90mm clear anodized, threaded body shocks that are built emulsion style with a bleeder screw in the cap for easier building and increased performance. The shocks use a one-piece spring for simpler tuning as well as more consistent performance on the trails and the shock body has a larger bore for increased oil volume and more consistency.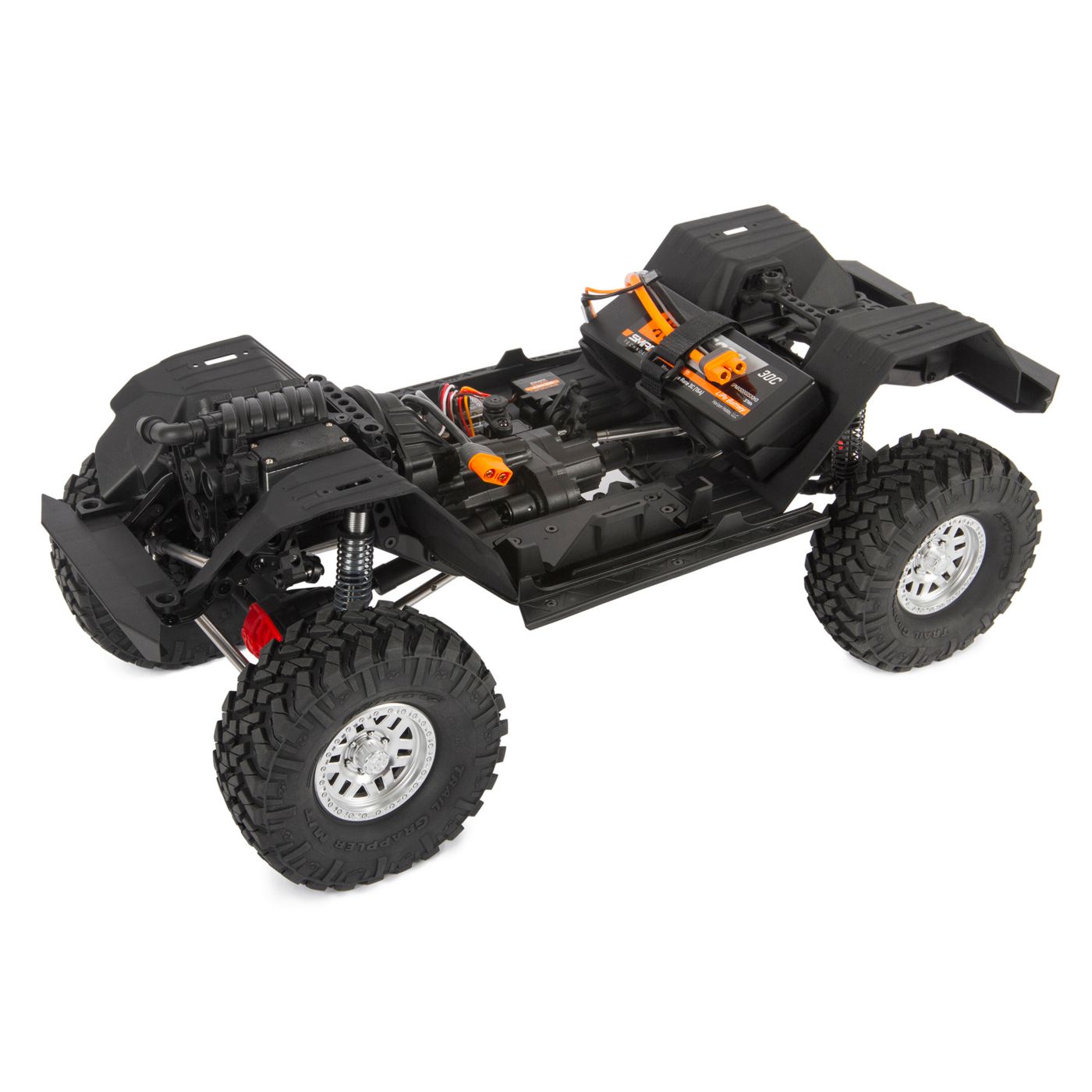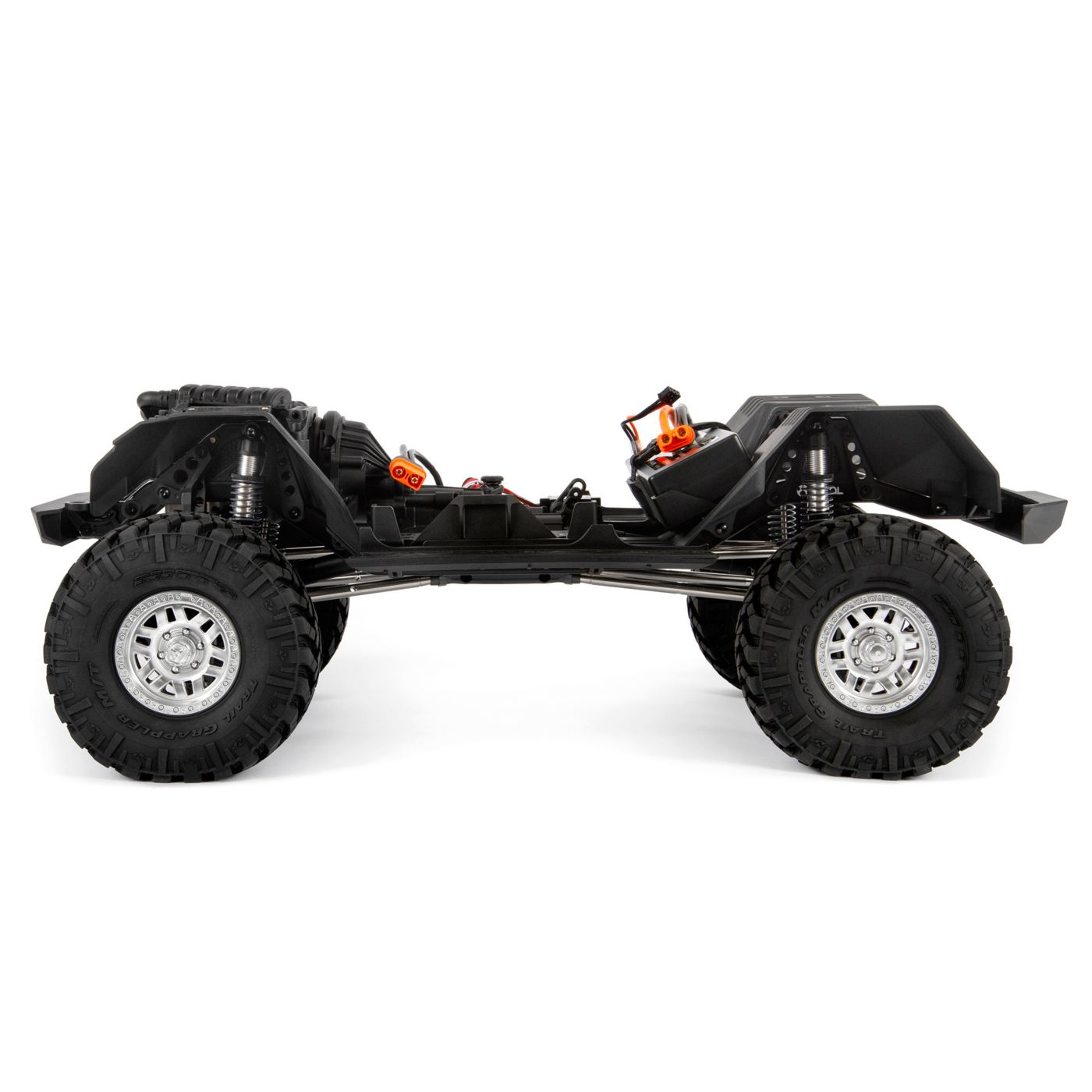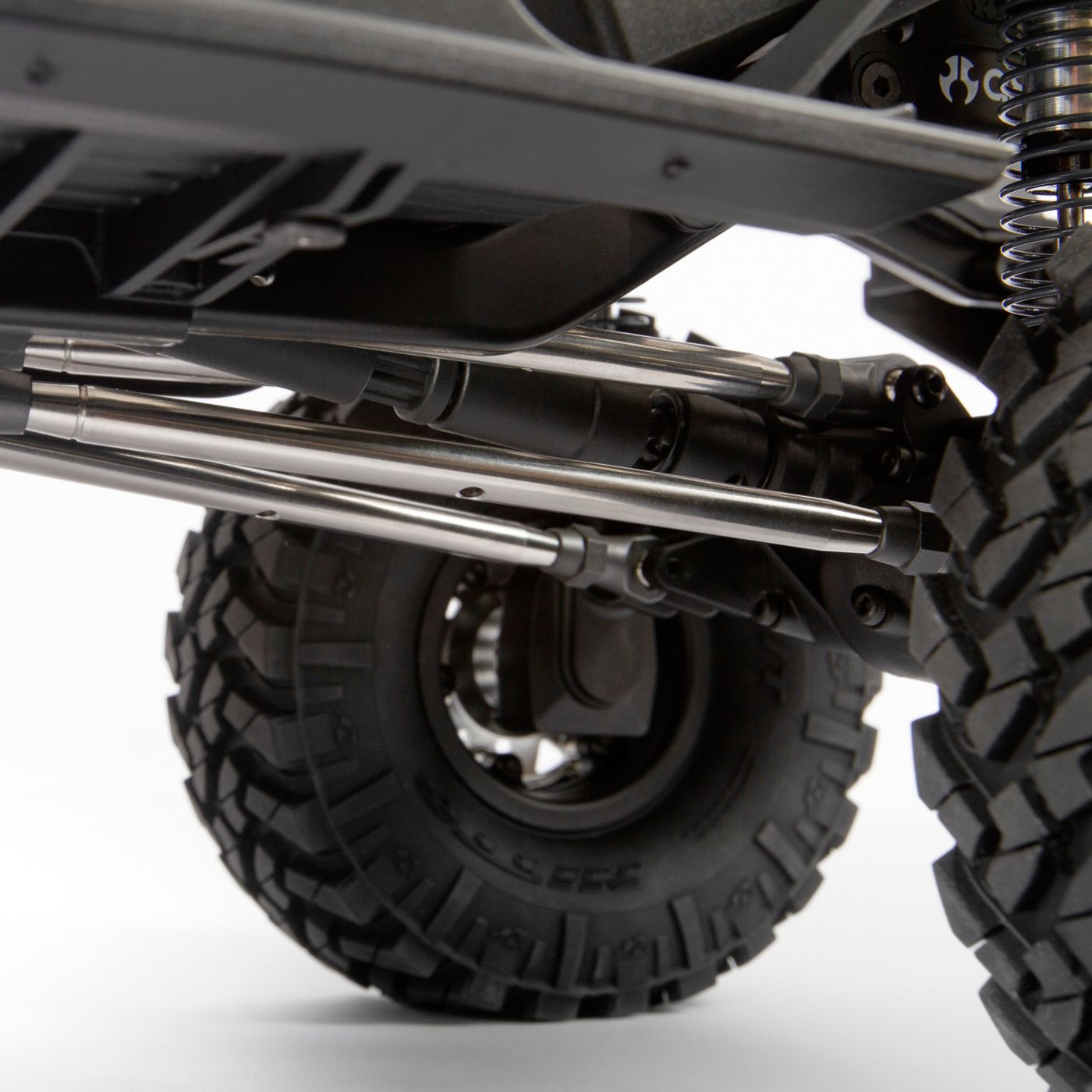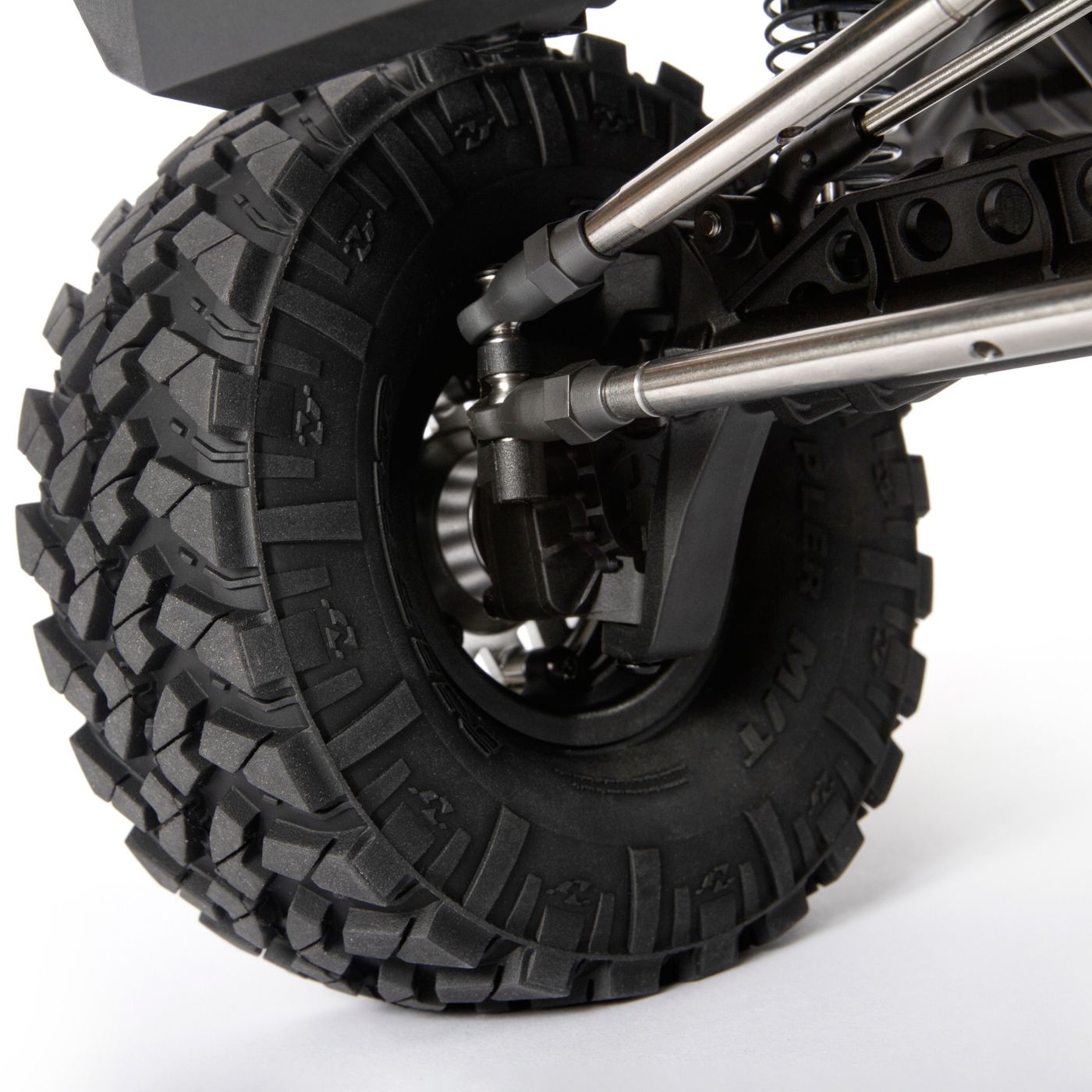 The SCX10III gives the user multiple options for battery mounting, both for full size packs as well as "shorty" style batteries. The pack can be mounted in a traditional location at the center of the chassis toward the rear or along the side for smaller packs.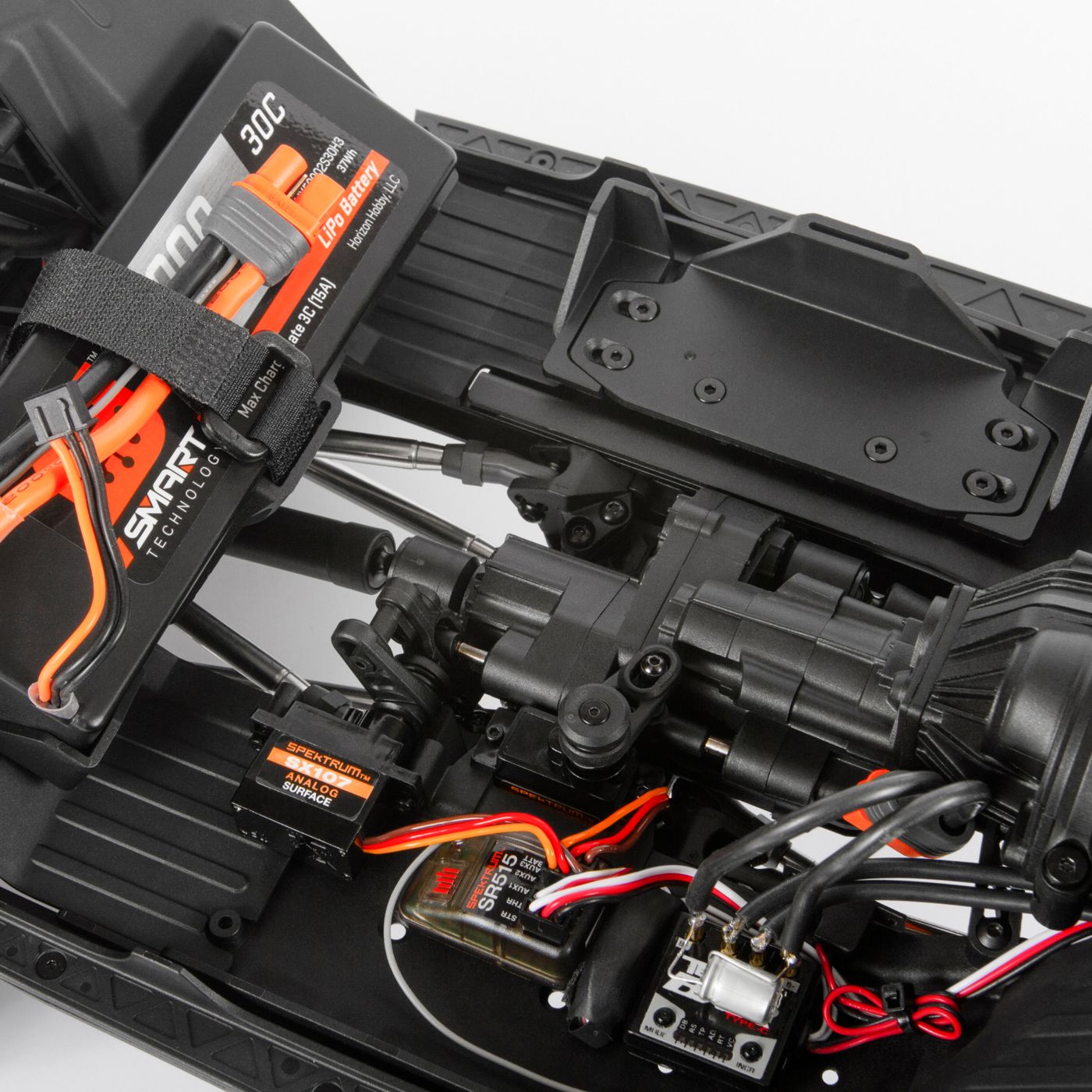 The motor and transmission are the 10III's standout feature. Gone are the days of the 3-gear center mounted trans and in its place we find a forward mounted motor that gets housed in a replica V8 engine (which appears to be an LS style unit, at least intake and cylinder head wise; the valve covers appear to have had their coils relocated). Transferring power from the motor is a scale automatic transmission housing that can be built with 2-speed or single speed options and a center mounted transfer case that has a dig option available straight out of the box. The transmission features all-metal gears for increased strength and can be set up with any combination of dig and 2-speed that the builder chooses using a 3-or-4 channel radio system.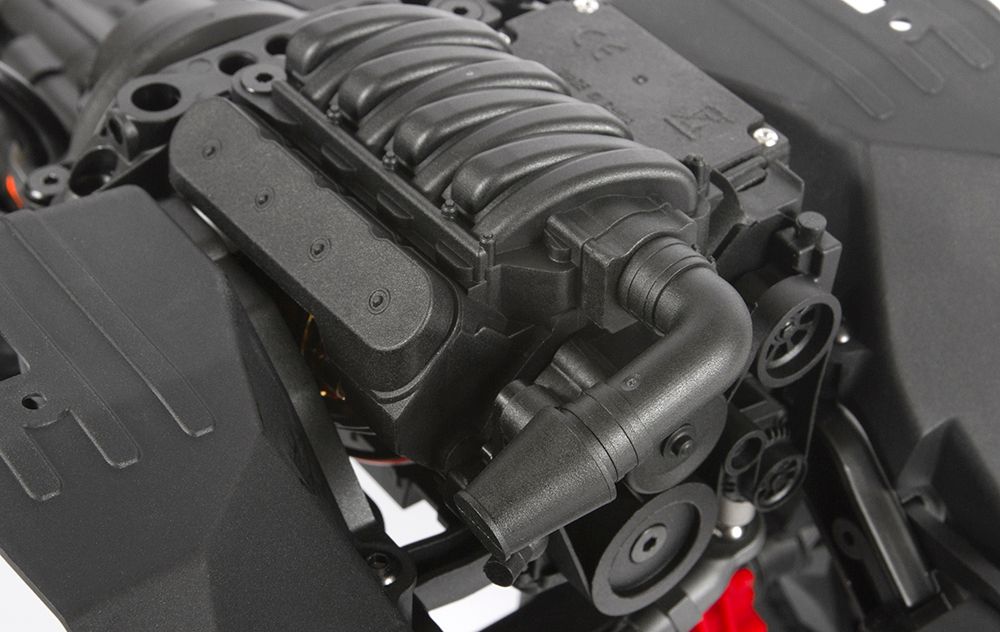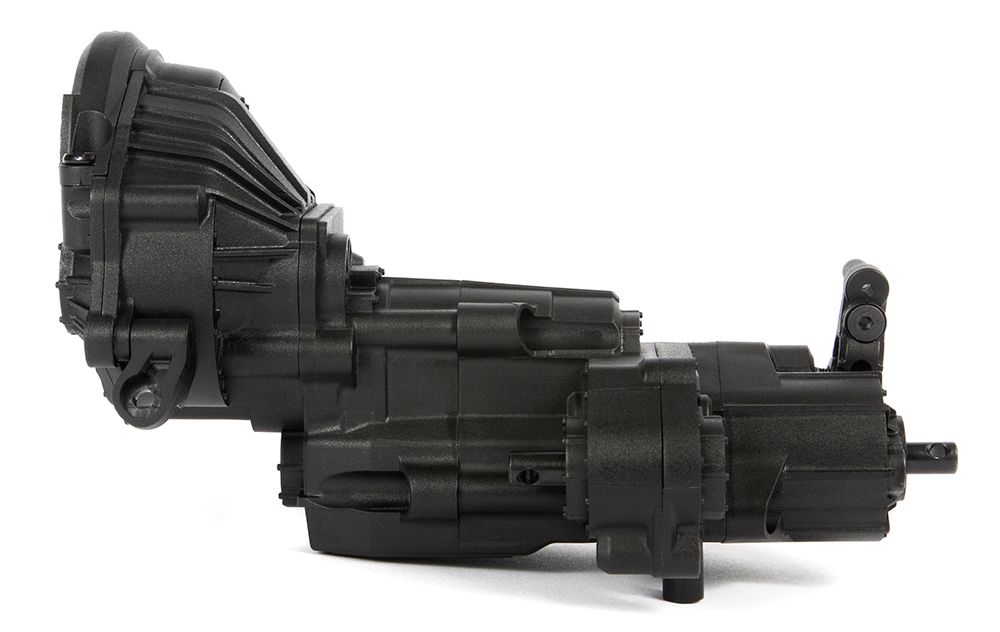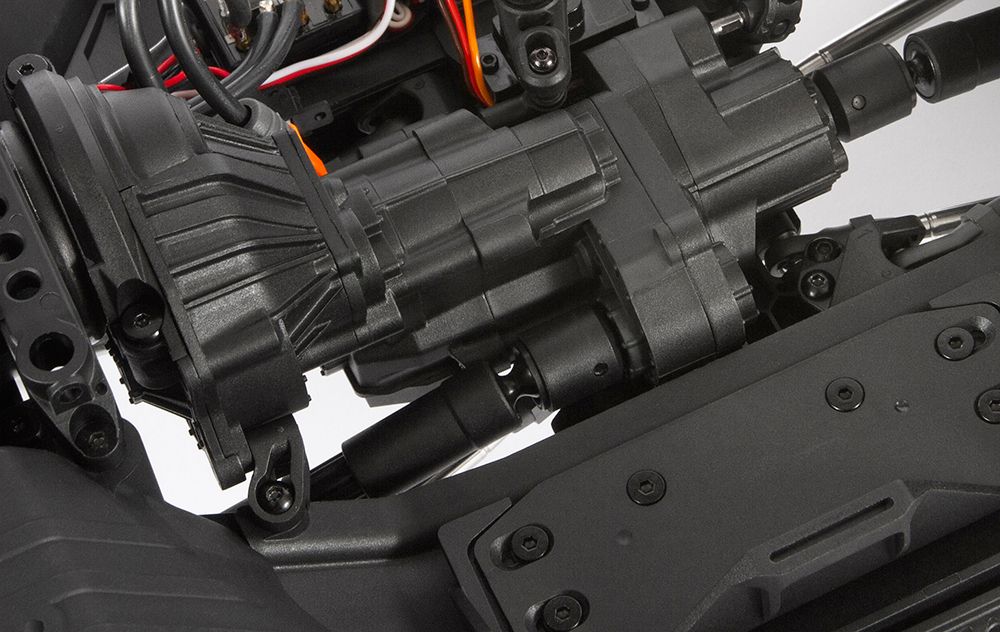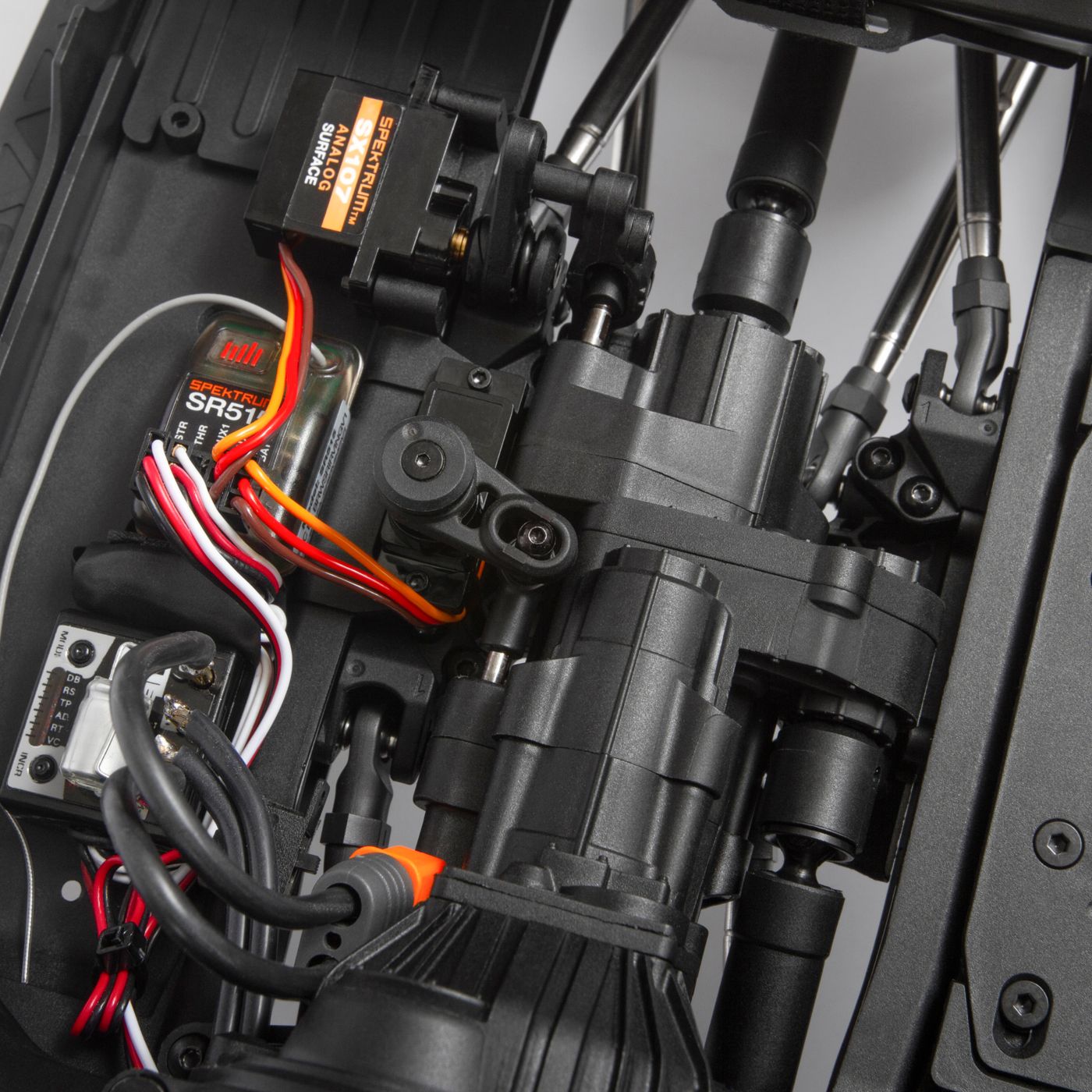 For appearance Axial has gone out of their way to make the JL look as realistic as possible. Gone are body posts and clips and instead the body is held in with hidden clips behind the CRC style bumpers. The clear shell has numerous molded detail pieces that include: hood latches, door handles, front grille, radiator and light bucket details, hood vents, a front cowl and windshield wipers, fender flares, a gas cap and rear light buckets. Inside the shell lies an interior roll cage, a detailed interior pan with dashboard and steering wheel, and a driver figure with separate heads. The chassis includes fender wells and a center mounted tray to prevent seeing inside the chassis as well as giving an area to mount electronics. The fender wells also incorporate mounts for rock lights (not included with the kit).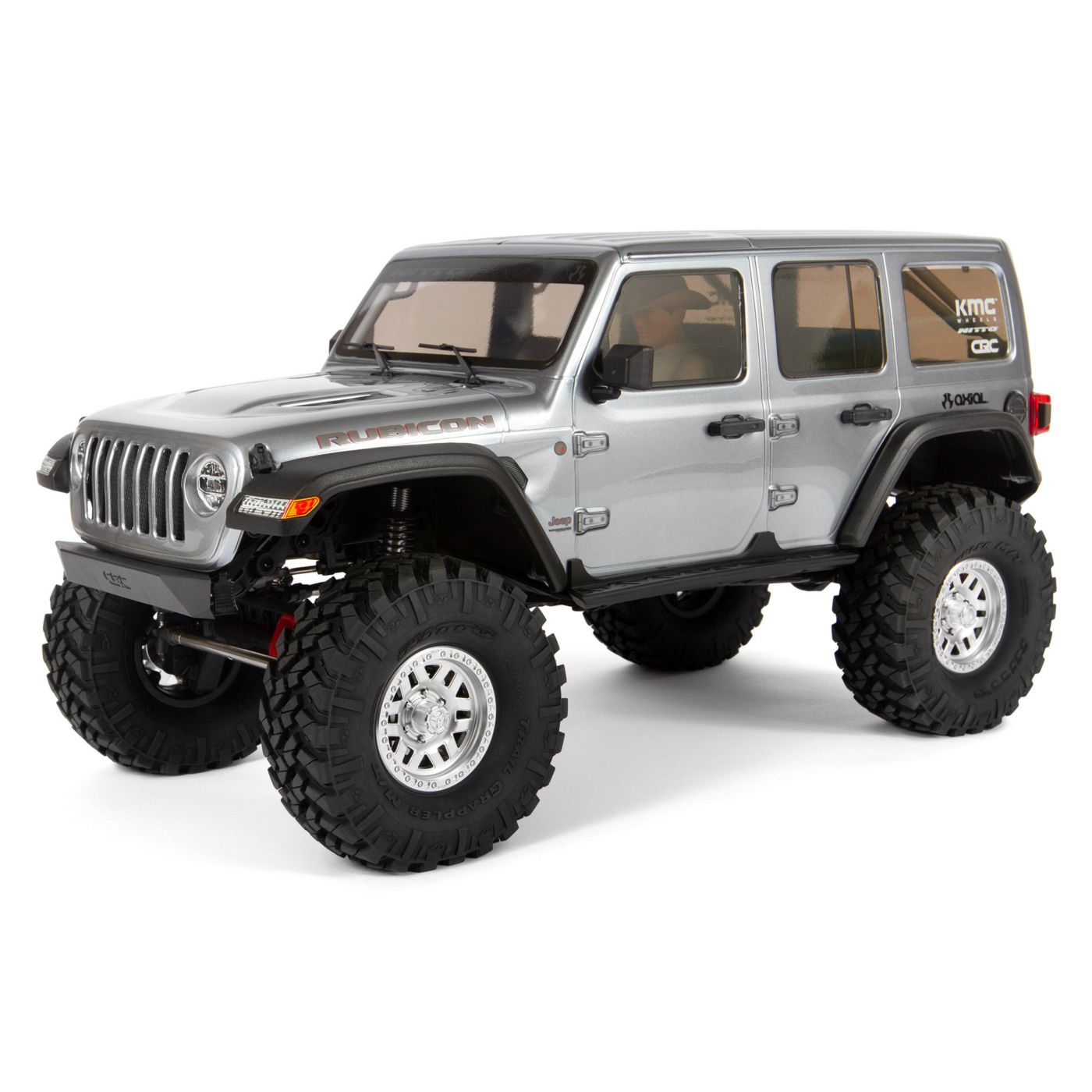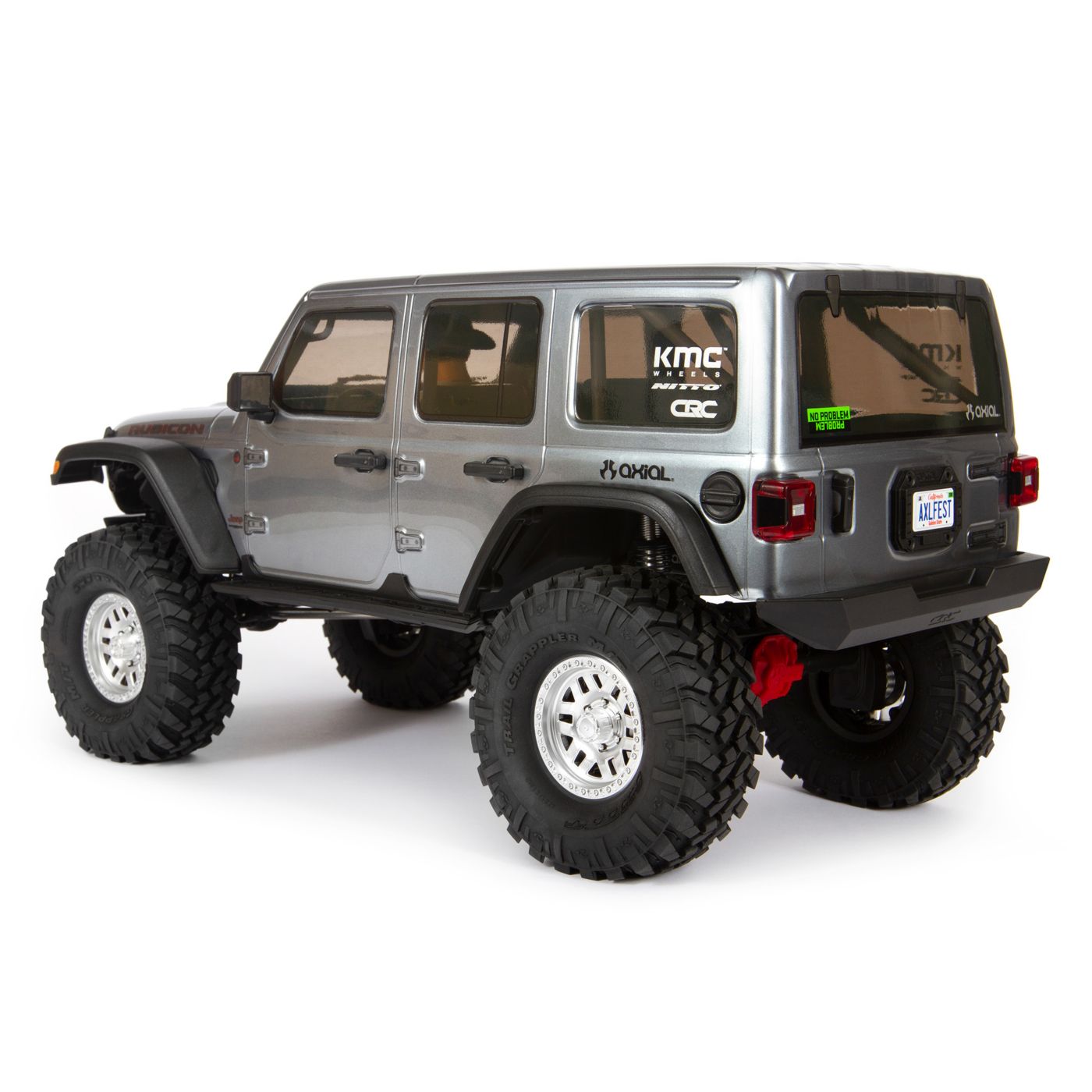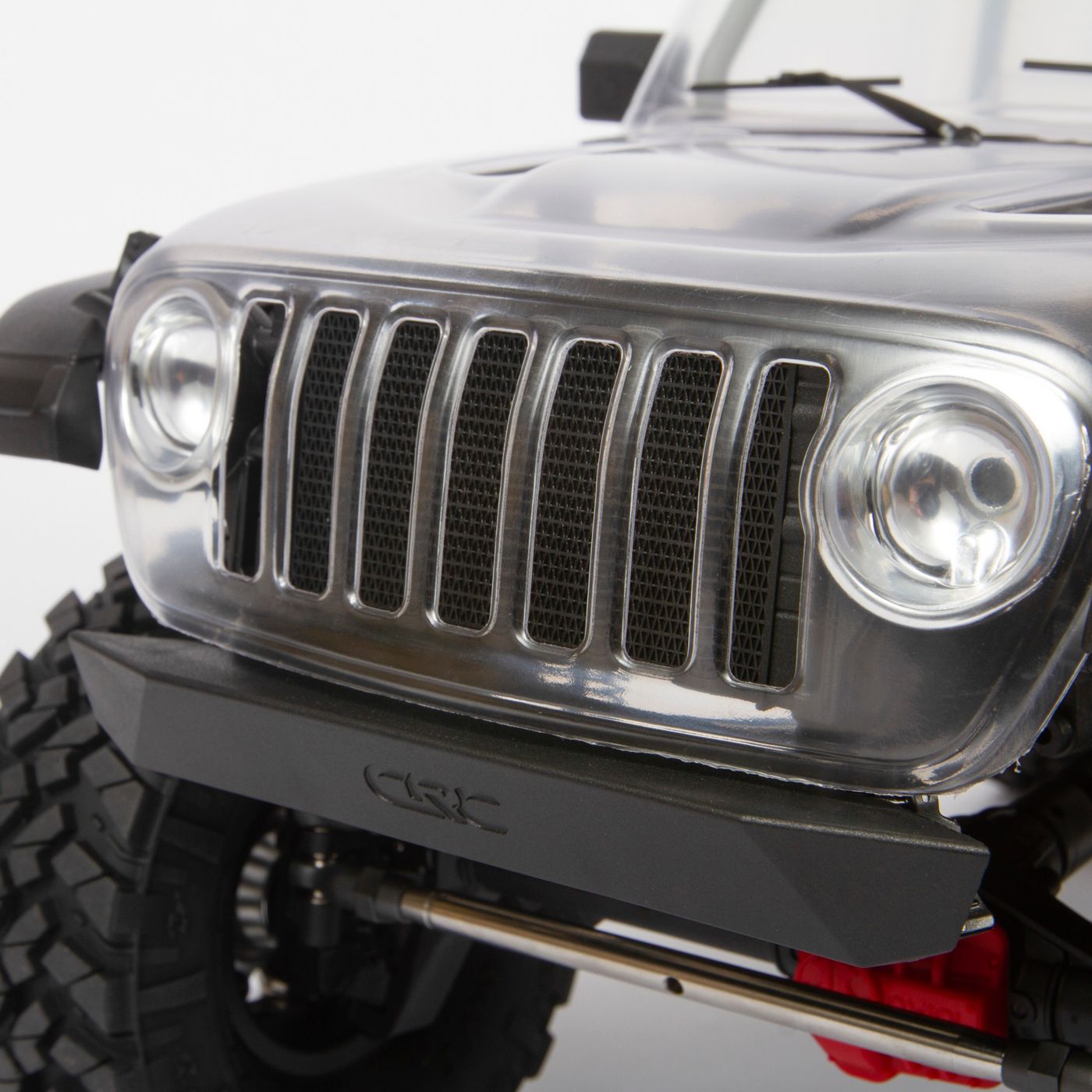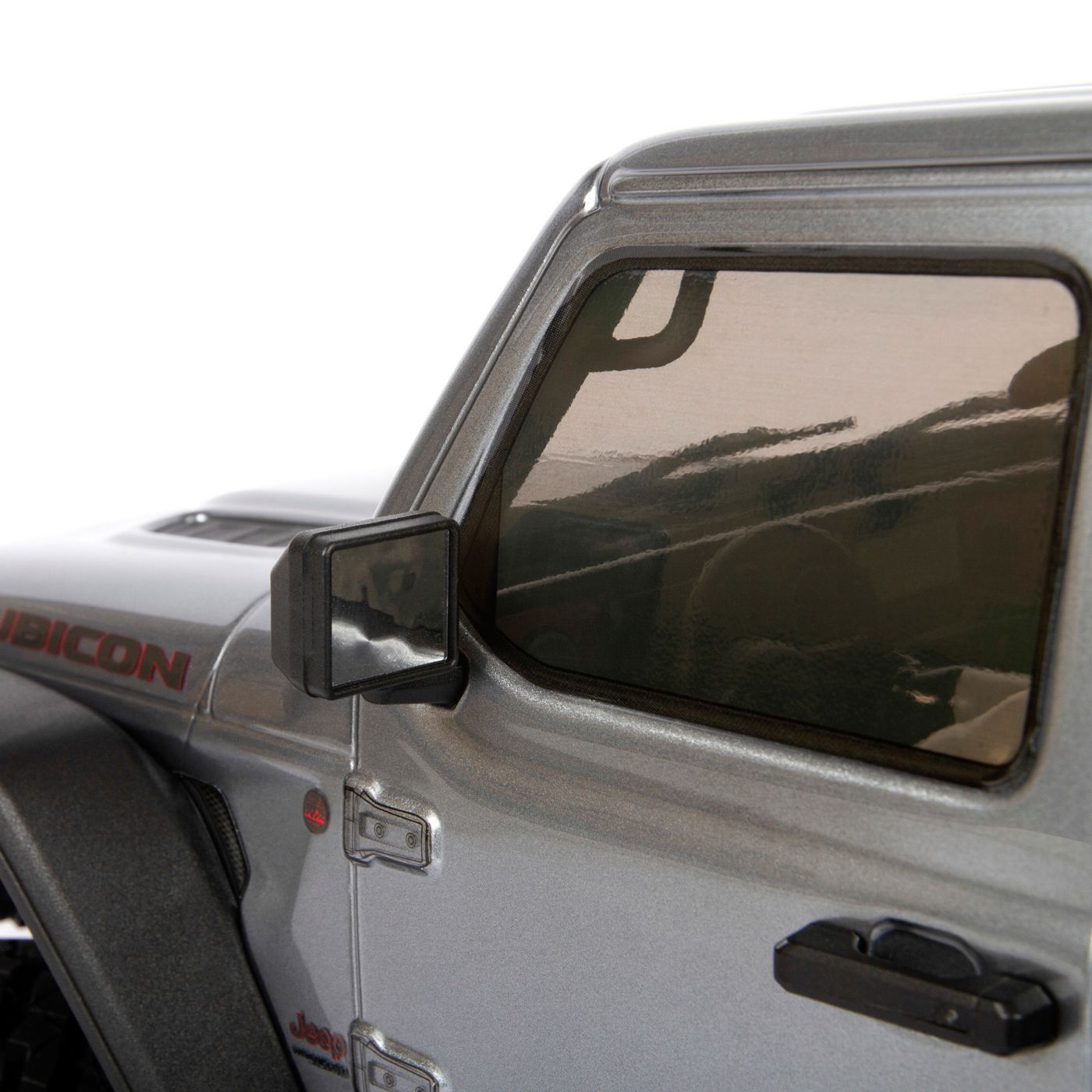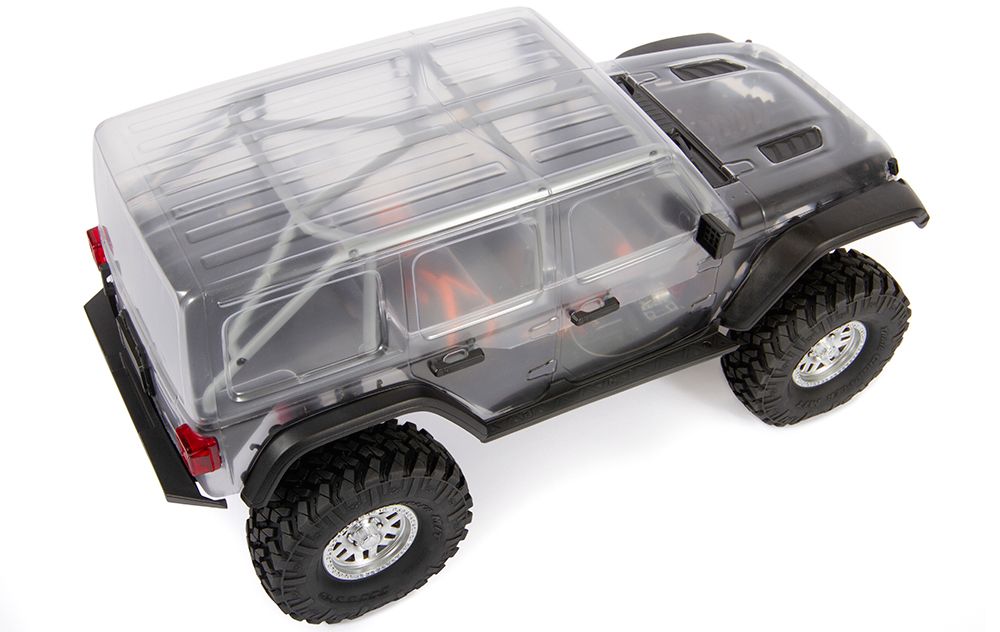 Rounding out things in the looks department are licensed replicas of KMC's XD Machete wheels, finished in satin chrome. These wheels are a plastic 3-piece beadlock design for increased durability and simple tire and foam changes. Wrapped around those wheels are a new Nitto Terra Grappler in a larger 4.74″ tall by 1.7″ wide size. The tires are molded in Axial's S30 medium compound and include foam inserts.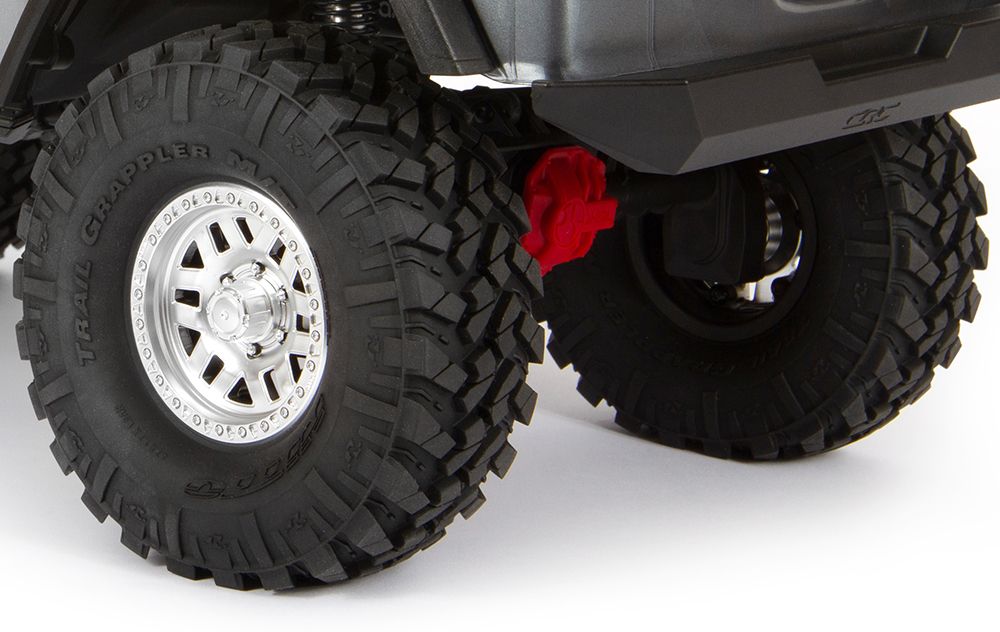 Link: https://www.horizonhobby.com/product/cars-and-trucks/axial/new-releases-15123–1/1-10-scx10iii-jeep-jl-wrangler-w-portals-4wd-kit-axi03007?utm_source=bronto&utm_medium=email&utm_content=Spot1&utm_campaign=03192020_SURFACE&_bta_tid=14778184685476418485874427756841307511066525164248792816712788696734609451804352051681735135903684492551&_bta_c=f0beyp4hxi6b0ib9vuebl1nrfo4qm