Axial have introduced a new lower-cost entry-level option for drivers wanting a taste of the SCX10iii action without all the trimmings. Carryovers from the standard 10iii include the steel c-channel ladder frame, portal axles, machined ring and pinion gears with separate lockers and rock slider bases. Including these parts keeps costs low and performance high thanks to their proven design. While some key components may be familiar, many new parts are found on the Base Camp that make it an attractive option for new drivers and seasoned veterans alike.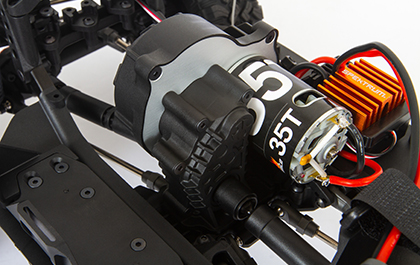 Gone is the large forward mounted dig/2-speed transmission from the JL and JT versions of the 10iii and in its place is a new 5-gear reversible metal gear center mounted LCXU transmission. This transmission offers a lower center of gravity while also allowing users to switch between a 5-gear reverse rotation setup and a 4-gear standard rotation arrangement for use with Axial's straight axle conversion kit. Internal ratios are the same for both configurations, offering 2.6:1 reduction inside the transmission itself. Removal of one gear and shaft inside the transmission and re-installation into an optional location allows for this change with no extra or optional parts needed.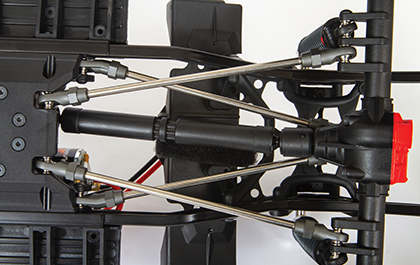 One of the weak points of the early 10iii's were its panhard mount; the plastic could not handle the stress it was under and acted as a sacrificial piece that broke before something more expensive had a chance to become damaged. The new piece is cast metal and includes a removable spacer for use with the straight axle conversion kit. Four millimeter stainless steel links are found front and rear and are of a simpler design than the original threaded links with their adjustment holes.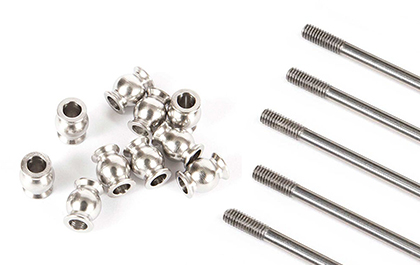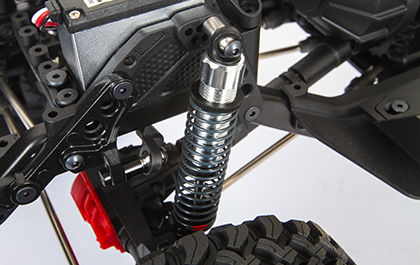 Aluminum, threaded body, coil over dampers are found at all four corners and are similar in construction to the King shocks seen on select previous models. The large body dampers have increased oil capacity for consistent performance and include an aluminum component to the shock cap for better sealing and durability.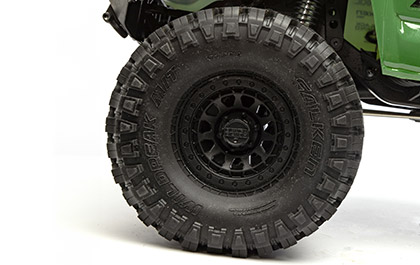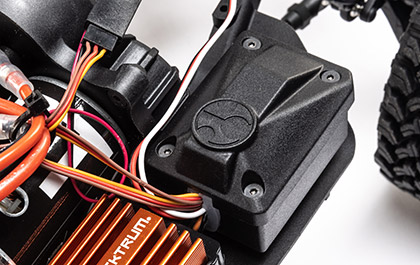 For aesthetics Axial has outfitted the Base Camp with glue-on Black Rhino wheels wrapped in Falken Wildpeak 4.7″ tall tires. The tires are molded in Axial's R35 compound for added traction and the extra height provides even more ground clearance when combined with the portal axles.
The new generic pickup style lexan body is screen printed in one of three colors; blue, grey or green, and sees the return of top mounted body posts and body clips for body retention. Demello designed scale scale bumpers are found front and rear with adjustable mounts for use with aftermarket bodies or to move the bumpers for added tire clearance. Three servo winch mounts are included in the front for your choice of center, offset or bumper mounted winch placement options.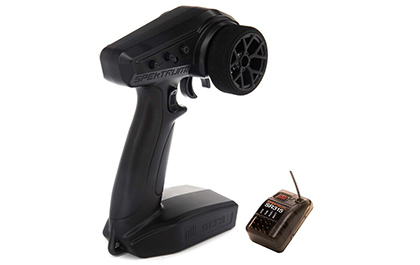 Finally, for electronics the Base Camp makes use of Spektrum's 40a brushed ESC, a tried-and-true 35t sealed can 540 motor, the Spektrum SLT3 3-channel transmitter and separate receiver (allowing upgraded transmitters to be bound to the stock receiver) and a metal gear S615 15kg servo. The ESC itself is water resistant as is the steering servo while the receiver is housed in a waterproof receiver box for safe keeping.
Item #AXI03027T1 SCX10iii Base Camp RTR Blue
#AXI03027T2 SCX10iii Base Camp RTR Green
#AXI03027T3 SCX10iii Base Camp RTR Grey
Link: https://www.horizonhobby.com/product/1-10-scx10-iii-base-camp-4wd-rock-crawler-brushed-rtr/AXI03027.html?utm_source=sfmc&utm_medium=email&utm_content=Spot1&utm_campaign=05052022_surfnewrelease