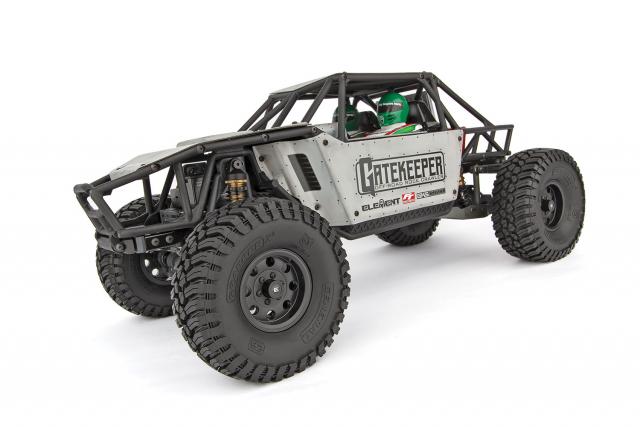 Invoking a name from RC rock crawling lore, Element RC has announced their new Gatekeeper Builders Kit, aimed at trail enthusiasts and U4 fans.
Beginning with a standard Enduro chassis, 3-gear transmission and axles, the Gatekeeper adds a molded plastic roll cage and lexan body panels for a whole new look in stark contrast to the detailed lexan bodies previously seen on the Enduro. The entire cage flips forward separate from the chassis to allow simple battery changes and facilitate maintenance. Inside the roll cage is a detailed, shallow-pan style interior with driver and passenger detail, two injection molded heads and a comprehensive decal sheet to add detail to the already impressively molded pan. No wheels or tires are included.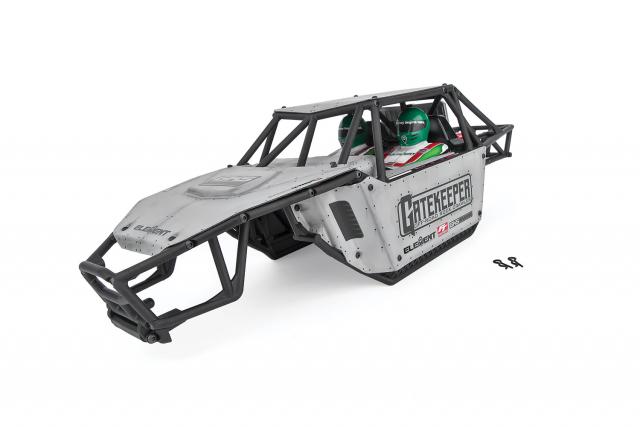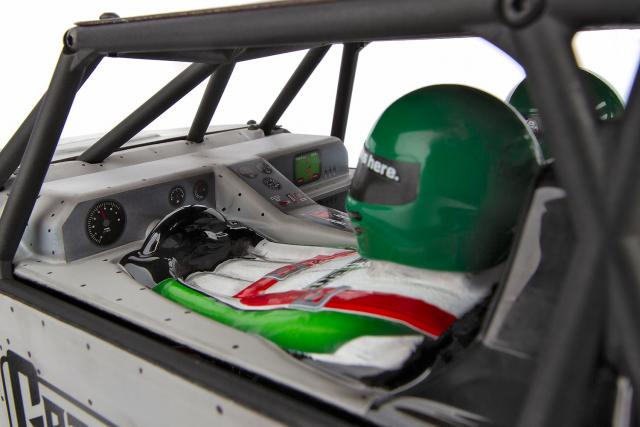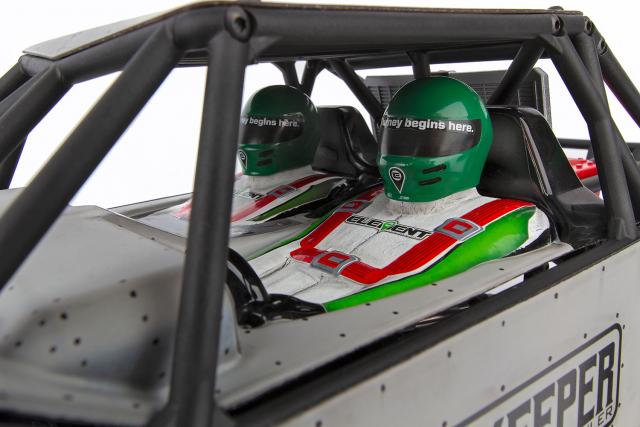 Element has changed a fair bit within the chassis for the GK. A keen eye will notice a plethora of grey colored plastic, denoting the stiffer blend of nylon used by Element in previous "upgrade" parts for other Enduro based vehicles. These stiffer parts allow the chassis and suspension to do their job more effectively without having to contend with the extra flex caused by the previous black molded pieces. Increasing durability is a new aluminum two-piece panhard mount that adds rigidity and should help reduce flex and potential breakage in this high-stress area. New shock mounts are found front and rear and feature aluminum inserts with multiple shock mounting holes for more tuning options and a secure shock mounting location. The rear shock mounts are moved considerably forward compared to other Enduro models as well to accommodate the GK's trailing arm rear suspension design. Large lower arms not only provide a secure home for the bottom shock mount and swaybar linkage but also locate the axle beneath the chassis preventing side-to-side movement during its travel. The new rear suspension design also adds a bit to the wheelbase of the vehicle, stretching it to 12.9″, while also selling the look of a U4 competition rig. Keeping the chassis and axle under control is a new rear anti-roll bar that is linked to the axle via chunky arms and a short solid linkage. Finally, the rear trailing arms are mounted to new sliders that are extended rearward and have a slimmer profile than previous units.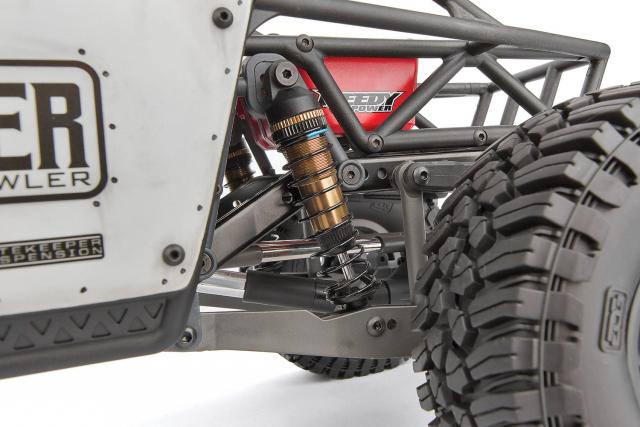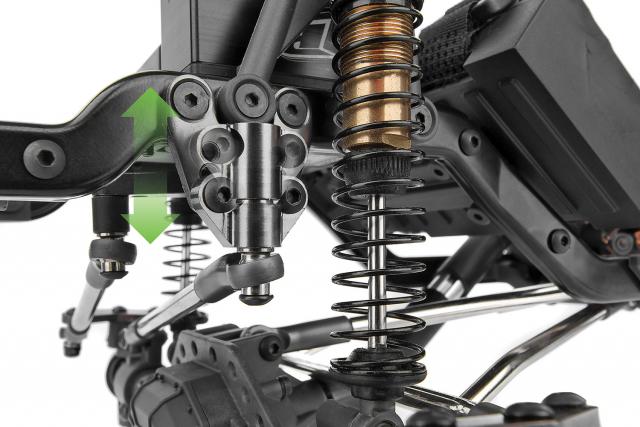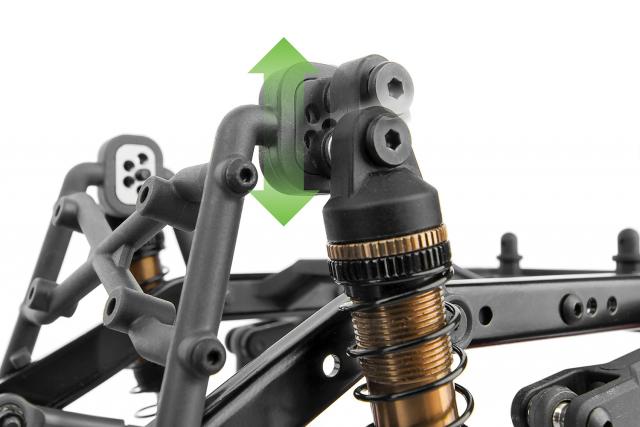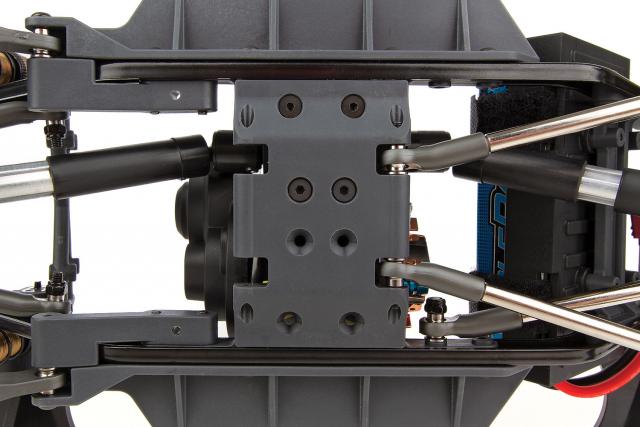 The front suspension is largely unchanged from the standard Enduro and still features a 3-link with panhard design, chassis mounted servo with steel servo horn, bronze colored threaded body aluminum shocks (found at all four corners), 5mm suspension links of which the fronts are of a high-clearance design, splined front axle for caster adjustment, aluminum steering plates and universal front axles. The telescoping center driveshafts are a 3-piece design with extruded aluminum centers for increased durability and long service life. Transferring the power from those shafts to the wheels are hardened steel ring and pinions, the aforementioned front universal shafts and one-piece rear shafts and finally steel 12mm wheel hexes.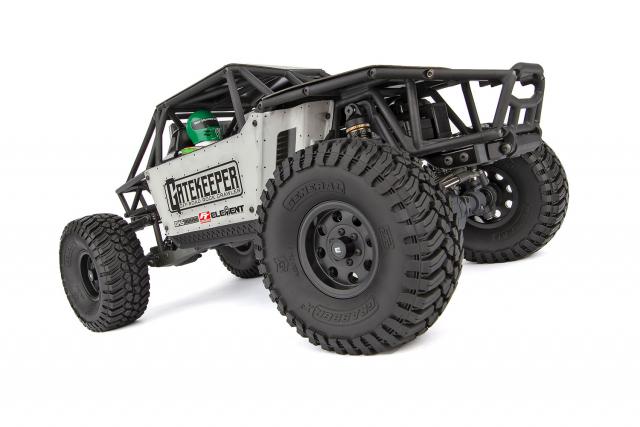 Link: https://www.associatedelectrics.com/element/cars_and_trucks/Enduro_Gatekeeper/Builders_Kit/pictures_videos/